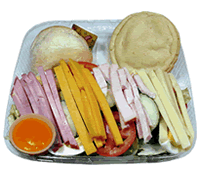 Quantity in Basket: none
Price:$8

Julienne-cut smoked turkey breast, honey roasted ham, swiss and cheddar cheese on a bed of salad greens with hard boiled egg wedges, roma tomatoes and cucumbers, served with thousand island dressing.

Served with a hearth baked roll and fresh baked gourmet cookie. Dressing is served on the side. Recommended dressing can be substituted with sweet & sour poppyseed, ranch, italian, creamy caesar, asian ginger sesame or balsamic vinaigrette.

If you have any special instructions or requests please use the text box below to let us know.